My Blog
Posts for tag: porcelain veneers
By Inman Family Dentistry
January 16, 2020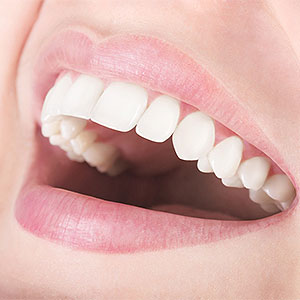 For chipped, stained, or slightly crooked teeth, dental veneers might be the ideal solution. These thin layers of porcelain bonded directly over the teeth with the perfect blend of color, sizes and shapes, can transform a person's smile for a relatively modest cost.
But if the teeth belong to a teenager, veneers might not be appropriate. This is because in most cases, we'll need to remove some of the tooth enamel so that the applied veneers won't look unnaturally bulky. This alteration is permanent, so the teeth will require some form of restoration from then on.
While not usually a major issue with fully matured adult teeth, it could be with the developing teeth of pre-teens and teens. During childhood and adolescence the tooth's inner pulp plays an important role in dentin production, and so the pulp chamber is relatively large compared to an adult tooth. This larger size places the pulp closer to the enamel surface than with an adult tooth.
Because of its proximity to the enamel, there's a greater chance veneer alterations could damage a teenager's tooth pulp and its nerve bundles. If that happens, we may need to perform a root canal treatment to save the tooth—also not an optimal situation for a developing tooth.
That's why we need to take into consideration a patient's age and stage of dental development first, including x-raying the affected teeth to measure the depth of the tooth pulp. If we deem it too risky at the moment, there are other ways to improve dental appearance at least temporarily. This includes whitening externally stained teeth with a bleaching agent, or applying tooth-colored composite resin material to chipped areas. We can also apply a composite material veneer that, although not as durable as traditional porcelain, doesn't require much if any tooth alteration.
To know your options, have your teenager undergo a thorough dental examination. Your dentist will then be able to discuss with you whether veneers can be safely attempted. And be sure the dentist who may perform the work has experience performing cosmetic procedures on teenagers.
If you would like more information on restoration choices for teenagers, please contact us or schedule an appointment for a consultation. You can also learn more about this topic by reading the Dear Doctor magazine article "Veneers for Teenagers."
By Inman Family Dentistry
December 22, 2018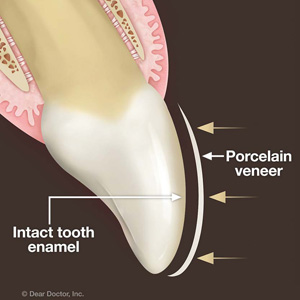 Porcelain veneers are one of the best ways to transform your teeth's appearance with only a small amount of tooth preparation. But even that small amount could leave a veneered tooth permanently altered.
As the name implies, veneers are thin layers of custom-designed porcelain bonded to the outside of a tooth to cover defects. They're usually ideal for minor chipping, staining or even slight tooth misalignments. But although they're thin—often just a millimeter or so in thickness—they can still make a tooth appear or feel bulky.
To reduce this extra width, we usually need to remove some of the tooth's surface enamel. Since enamel doesn't replenish itself, this alteration could mean the tooth will require a restoration from then on.
But now, you may be able to take advantage of new advances in this popular restoration: No-Prep or Minimal Prep veneers that involve little to no tooth alteration. In most cases they're simply bonded to the teeth with only slight enamel reshaping.
Because of their ultra-thinness, No-Prep veneers (usually between 0.3 to 0.5 mm, as thin as a contact lens) are bonded directly to teeth that are practically untouched beforehand. A Minimal Prep veneer usually requires only enamel reshaping with an abrasive tool before it's placed. And unlike traditional veneers, they can often be removed if needed to return the teeth to their original form without another restoration.
These new veneers are best for people with small teeth, often from wear due to teeth grinding, narrow smiles (the side teeth aren't visible while smiling), or slightly misshapen teeth like underdeveloped teeth that can appear peg-shaped. But people with oversized teeth, some malocclusions (bad bites) or similar dental situations may still require enamel removal to avoid bulkiness even with ultra-thin veneers.
If you don't have those kinds of issues and your teeth are reasonably healthy, we can apply No-Prep or Minimal Prep veneers in as few as two appointments. The result could be life-changing as you gain a new smile you're more than happy to share.
If you would like more information on no-prep veneers, please contact us or schedule an appointment for a consultation. You can also learn more about this topic by reading the Dear Doctor article "No-Prep Porcelain Veneers."